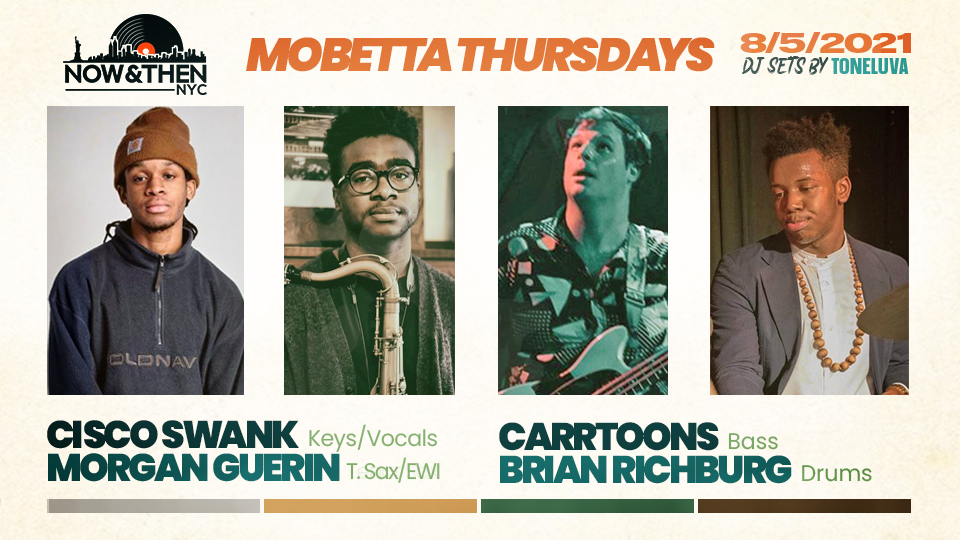 August 5, 2021
07:00 PM - 2:00 am
Mobetta Thursdays curated by Grammy Award-winning Maurice Brown is taking over Brooklyn's newest Music Venue "Now and Then NYC!" Enjoy some new material along with covers and impromptu songs made up on the fly by some of the world's most talented musicians. This week Aug 5th Mobetta Thursdays Presents: CISCO SWANK, CARRTOONS, MORGAN GUERIN & BRIAN RICHBURG
Francisco Haye "Cisco Swank" is a multi-instrumentalist, vocalist, and producer from Brooklyn, NY. He began playing the piano and drums at the age of 4 and since then had become a respected musician in the R&B, jazz, and hip-hop scenes. He is currently finishing his full length album set to release in fall 2021. Francisco currently attends the prestigious Berklee College of Music under a full scholarship.
Ben Carr aka "CARRTOONS" is a producer and multi-instrumentalist, currently located in Beacon, NY. Carr's artistry places the deep, rich tones of the electric bass at the forefront of all his compositions. Descendent of a family with its own unique musical history, Ben received his degree in Jazz Performance at SUNY Purchase Conservatory in 2013. After a stint with the Mad Satta collective, opening for acts such as Thundercat, Nick Hakim, and Gabriel Garzon Montano, he became a fixture in the New York music scene. Over the last few years, he has become one of the most sought after East-coast producers through his eye-catching Instagram videos and the buzz of his latest release, "Saturday Morning". He was also recently featured on NPR's Tiny Desk series, rearranging the NPR theme songs for the 50th anniversary. CARRTOONS has collaborated with/ played bass with Mac Ayers, MXXWLL, Topaz Jones, Reuben James, Jermaine Holmes, Marcus Machado, Emmavie, and many more.
New York City-based multi-instrumentalist, producer, composer, and engineer Morgan Guerin has achieved much in his young, burgeoning career. From composition to appearances on significant stages, Guerin has spent his life exploring new and exciting ways to navigate sound.
Born right outside of New Orleans, Louisiana, Guerin gravitated towards the drums when he was just a few months old and started playing the saxophone when he was seven. He moved to Atlanta in 2009 to complete middle and high school where he also began playing more instruments and getting deeper into engineering and production. He then moved to New York City in 2016 for college and to fully pursue his career.
Guerin is skilled in several instruments, including bass, saxophones, electronic wind instrument (EWI), drums, and keys. Notable collaborators include Terri Lyne Carrington and Kassa Overall, both with whom Guerin played bass, sax, EWI, and drums; Esperanza Spalding, with whom he played bass, sax, and synthesizers; and Tyshawn Sorey, with whom Guerin played tenor and soprano sax and EWI.
Dubbed a "wunderkind saxophonist and multi-instrumentalist" by The New York Times, Guerin was born into a musical family with a pianist mother and bassist father. Later, he went on to study at The New School in Manhattan. In 2016, the Huffington Post named his debut album, "The Saga," one of the best Jazz albums of the year. In 2017, Stereogum highlighted his sophomore album, "The Saga II," as one of the best new albums. He was featured on Terri Lyne Carrington & Social Science's award-winning album, "Waiting Game." He was also a songwriter and co-producer of Esperanza Spalding's 2019 Grammy-winning record, "12 Little Spells". His third album, "The Saga III," was released on September 18, 2020.
Drummer Brian Richburg Jr. was born and raised in New Orleans, and began playing in his father's church at an early age. While growing up, he was exposed to the diverse sounds and cultures that define the uniqueness of that city. Richburg's drumming incorporates the African and Caribbean inspired rhythms of the New Orleans street bands. He has toured and performed with Nicholas Payton, Donald Harrison Jr., Ellis Marsalis, Christian Scott aTunde Adjuah, Delfeayo Marsalis, Amina Figarova, Joanne Bracken and many others. He's a ASCAP Louis Prima Award winner and currently receiving his Master's degree on a full scholarship at the prestigious Berklee College of Music.
Now and Then" is Brooklyn's newest INDOOR/OUTDOOR venue with an amazing Sound System, an outdoor patio, delicious food and full bar. Every seat in the house is a perfect seat with a view of the bandstand.
Last week shows left the people wanting more! Limited Advanced tickets available for $25 for the evening's 8PM and 10PM shows. Seating is first come first serve, so get them now!
Thursday August 05, 2021
7:00 pm - 2:00 am
21+
Cover: TBD
Cover Notes: 25.00
---