May 3, 2013
09:00 PM - 2:30 am
DJ Spinna
,
family industries
,
Footlong Development
,
Frolab
,
Funk
,
Hip Hop
,
Jackson 5
,
Janet Jackson
,
Jermaine
,
keistar
,
Los Angeles
,
Michael Jackson
,
mj
,
Monalisa
,
prince
,
PRINCE ROGERS NELSON
,
rnb
,
sh
,
Slam
,
Soul
,
Spinna
,
the arena
,
Tito
,
Tonight!
,
TONIGHT! SOUL SLAM w/ DJ SPINNA
ADVANCED TICKET SALES HAVE CLOSED

PLENTY OF TICKETS WILL BE AVAILABLE AT THE DOOR TONIGHT
Dearly Beloved We Are Gathered Here today 2 Get Through This Thing Called Life…….
FRIDAY MAY 3, 2013
FOOTLONG_DEVELOPMENT & KEISTAR PRODUCTIONS
PRESENT
The Original Prince & MJ Party….
SOUL SLAM 9
Celebrating The Life & Legacy Of Our Greatest Icon!
THE KING OF POP!
MICHAEL JACKSON
(1958-2009 R.I.P)

&
Honoring Our Most Prolific & Influential Artist
PRINCE
4 HOUR TRIBUTE SET BY
DJ SPINNA
(WONDERWAX,BBE,BK/NY)
OPENING SET BY
MONALISA
(KPL ALL-STARS,UMOJA HiFi,LA)
HOSTED BY
COGNITO(FROLAB)
LIVE PRINCE & MICHAEL JACKSON INSPIRED TSHIRT SCREEN PRINTING BY
FAMILY INDUSTRIES
LIVE PAINTING BY SAMIRAIDROOS.COM
6655 Santa Monica Blvd
(2 BLOCKS EAST OF HIGHLAND)
Los Angeles, CA 90038 9PM-2:30AM 21+
w$20 @ THE DOOR
PLENTY OF $6 PARKING AND STREET PARKING
EARLY ARRIVAL SUGGESTED!
BOTTLE SERVICE & TABLE RESERVATIONS: [email protected]
FREE POSTERS THE NIGHT OF (While Supplies last…..)
Prepare yourself for one of LA's most exciting dance parties of the year…..SOUL SLAM returns FRIDAY MAY 3!!
This event centers around the honoring of two of the most eclectic and innovative artists to date, Michael Jackson and Prince! From the inception of this concept back in 1999 the response for SOUL SLAM has been enormous. DJ Spinna sets the tone of this event as he lays down track after track from both MJ's and Prince's extensive music catalogues along with tracks of their cohorts,i.e.; Jermaine Jackson, Vanity, Janet, Sheila E., J5, The Time etc.
Last years visit to LA brought out 1200+ people….A capacity filled night with LA's top taste makers, fashionistas and music fans.

What: A dedication to Michael Jackson & His Royal Clan and Prince & His Disciples. Featuring one of New York's finest, DJ Spinna. Also, opening set by LA's own MonaLisa. This is a world-wide event that originated in New York and has reached San Francisco, Japan, Los Angeles & Europe.
DJ SPINNA(BK)
DJ Spinna is something of an anomaly in music. A humbling example of what it takes to truly succeed within the framework of multiple fields. A steadfast work ethic, an obsessively extensive vinyl library and the willingness to pursue the full extents of his roots (Funk, Soul and Jazz), foundation (Hip-Hop) and future (Electronic/Dance music) with no restraints. Everyone from Mos Def, Talib Kweli to Pharaohe Monch boasted Spinna beats to prove their worth to the scene.
As collaborative production work flooded his studio, from hip-hop legends like Sadat X & Grand Puba (Brand Nubian), Masta Ace and Guru (Gangstarr) to even The Jungle Brothers. Yet, while his stock as a the go-to producer rose so did his value as a key, if not crucial, remixer. At the time reworking hits for the major-label likes of De La Soul ("Stakes is High") Das EFX and MC Eiht.
Turning heads throughout the industry, Spinna's sonics soon infiltrated numerous genres. Tapped by everyone from George Michael to Mary J. Blige to Motown Records (for his brilliant Michael Jackson homage to "We're Almost There"). It's here his production presence would flourish greatly, as Spinna would go on to revive and revise Soulful marvels like Donald Byrd Eddie Kendricks, Betty Carter, Roy Ayers and Al Jarreau. Always relevant to the current, Spinna has taken to new mixes for the J Dilla bred Platinum Pied Pipers and Bay Area songstress Goapele as with the well respected Les Nubian. Though it goes without saying that one of the more memorable mixes goes to his monumental version of Shawn Escoffery's "Days Like This". In turn, catapulting Spinna into his now stately, touted presence in the dance music scene. Which made the transition to BBE Records smooth as ever, for his landmark solo production album "Here To There".
With so much studio work, it's a marvel Spinna travels as much as he does. The constant, globe-trotting performances he's become equally famed for have brought the DJ as far as Iceland, Australia, and South Africa as well as countless jaunts through England, Europe and the U.S. Not to forget, his hugely successful tours of Japan, where Spinna is held in the highest regard throughout the country for his craft in music. Not always the lone crowd-controller, Spinna's collaborated on stage alongside contemporary luminaries like Gilles Peterson, Jazzanova, Joe Claussell, Bugz In The Attic, Osunlade, Jazzy Jeff, Kenny Dope, Keb Darge, DJ Scratch (EPMD), DJ Shadow & Cut Chemist. He's a true showman – versatile as ever.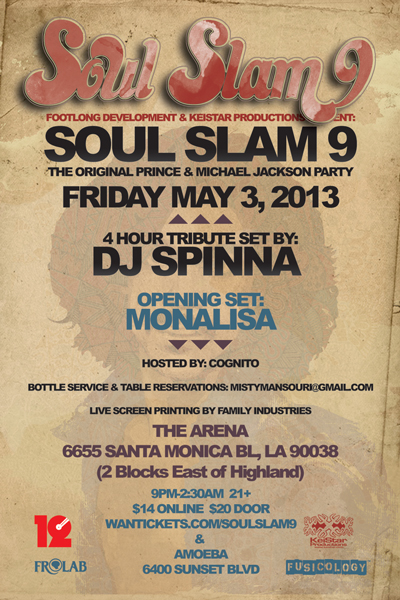 FREE "PRINCE WROTE IT" MIX BY DJ SPINNA–> HERE
FREE "JACKSON 5" MIX BY DJ SPINNA–> HERE
PHOTO BOOTH WITH THESE 2!!

POWERED BY
PRINCE*MJ

DJ SPINNA
FOOTLONG_DEVELOPMENT*KEISTAR
MONALISA*COGNITO
FROLAB*FUSICOLOGY
THE ARENA*LA WEEKLY*WANTICKETS
KCRW*KPFK*KJLH
AMOEBA
Friday May 03, 2013
9:00 pm - 2:30 am
21+
Cover: $20.00
Cover Notes: $14 Advance Tickets: http://wantickets.com/soulslam9
---