04.09.08
fringe: noun [ frinj ] members of a group or organization who hold views not representative of the group and usually more extreme.

–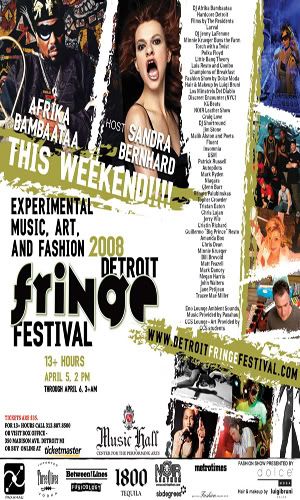 –
Based on this definition, this writer and other fringeful souls were treated to a night of pure fringed-out debauchery. Though I missed some of the earlier performances of the evening, my compatriot and I did arrive in time enough to catch Los Minstrels Del Diablo & Afrika Baambaata. Though the crowd was, for the most part, anemic, the visual show and electro/techno contraption-playing talents of the minstrels kept the night going strong. Counter culture images of current and former members of the Bush administration as well as images of Hillary Clinton bounced off the screen. The spotty audience came alive whenever the words "Bush is an Idiot" appear on the screen with America's worst president.
–
Concurrent to Los Minstrels Del Diablo's show was random mingling of all the fringesters throughout other areas of the Music Hall. For whose like a little 'noise' with their music, The Jazz Café (beautiful body painted Three Olive vodka servers didn't hurt either). Can't remember the name of the band or whether it was a one man band or what. I know–oops—sorry! One thing for sure, though, is that if you like the sounds of chalk screeching down a blackboard you probably would have liked them too! Whoever this band was, they were the epitome of fringe, and thus, in my opinion, a very good selection for the occasion.
–
The night wrapped with the legendary Afrika Baambaata, who, though taking the stage minus his trademark garb, wore out the dance floor in the most unpatentable way. Flanked by Hardcore Detroit Breakers break dance trio, he played old school breakbeat and hip hop classics. By the time he was half way into his set folks were movin', smilin', and laughnin.' This solidified in my mind, why Afrika Baambata is a true hip hop icon. He spun classics as well as some songs that many so-called purists would debate the 'hip hop' credibility. A tapestry of people danced the night away and it was another great night in the city we hate to love.
–
— Drake Phifer, Urban Organic Lifestyle & Music
—————————————————————————————–