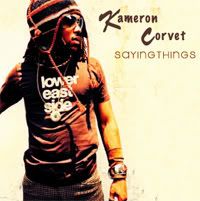 Highly coveted debut album from Kameron Corvet entitled Sayingthings is released worldwide, available nationwide through all of the main sources of music retailers. As Corvet begins another phase of promotion beginning in Paris next month, with his acclaimed acoustic show, advanced copies of Sayingthings will be available exclusively through www.kameroncorvet.com

This offer is for a limited time only and all albums purchased through the website will also receive free digital down loads of Corvet's acoustic EP "Simplement" which is ONLY available on the website! An early masterpiece from an underground hero, Sayingthings, gathers musical strands from all over the pop universe placing them into unadorned remarkably intimate stream-of-consciousness musings melodies.

Hailed by many as one of the best albums to come out of the Atlanta underground it encompasses all that makes album listening a memorable journey. It provides a platform for the pop, rock, and soul genres to come together over signature sounds and lyrical messages that express love and life's sense of urgency. He transcends the acoustic/neo-soul scene into the hugely grooving world of rock where electric guitars and break beats cleverly adorn tracks with sultry vocals, pristine live instrumentation and ingenious concepts.