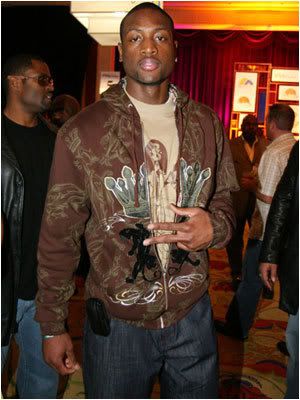 Words: Shah Wonders

Vegas was crazy. An insane amount of people on an already overcrowded strip, overpriced everything and traffic was said to have been a mile out away from the airport frustrating people on the day after the game. Yet I managed to chill and party with barely any sleep and drive back to LA Monday afternoon after the long weekend. And oh what a weekend that was…

Our collegues attended the The Converse Wade 2.0 event at Jet Nightclub inside of the Mirage. Common was freestyling and giving shout outs to his friends in the crowd with guests in the house Carmelo Anthony, Jadakiss, Nick Cannon, Amare Stoudemire and guest of honor, Dwyane Wade, debuting his new shoe and apparel line. Upon my arrival on Friday night we attended Kenny Smith's party where with LeBron James, poker, classic hip hop and plenty of drinks.

Saturday we were at an ever-crowded Pool Party @ the Wynn Hotel and later that night Kid Capri & Biz Markie DJd at the Magic Johnson/Allen Iverson Party @ Studio 54 at the MGM Grand which was attended by the likes of Jermaine Dupri, Megan Good, Fat Joe, T.I, and many others. After the game, Charlie Murphy performed @ the House of Blues on Sunday night followed by a KRS-ONE performance @ Taboo at the MGM Grand.

And whoa…the West kicked the East's a**

Peace.