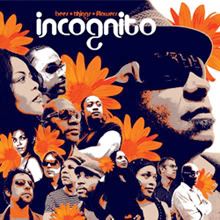 Bees+Things+Flowers Out Now!
Anyone paying attention to the upper echelon of soul music's ever changing face knows the name Incognito. Over a 27-year career, London-based Mobo Award winners Incognito made stateside strides with both dreamy urban adult/Quiet Storm fare such as "Deep Waters" and "Still a Friend of Mine," as well as jazzy horn-kissed club jams like "Everyday" and a cover of the Ronnie Laws/Side Effect classic "Always There." Fans will be glad to know that all four of those songs can be found on their latest album, Bees + Things + Flowers, only they'll sound nothing like the arrangements to which they've grown accustomed. This departure marks an artistic spike in the canon of Incognito with the largely acoustic and meditatively down-tempo Bees + Things + Flowers, the band's first album affiliated with hallowed jazz giants Blue Note Records via Narada Jazz.

Incognito has been affiliated with several great labels including the British pioneering acid jazz imprint Talking Loud and American jazz stalwarts Verve. Guitarist/songwriter, Jean-Paul "Bluey" Maunick shares, "I've had people in Japan, Indonesia, South America and Europe come up after shows and tell me, 'Bluey, your music saw me through a rough period.' I think, 'I wrote this thing with my innocent heart so far away from here, yet it's touched someone here.' That's when I realize we can't fix the people, but we can make them aware of what is within. I believe we're on this planet to use language and music to set moods and emotions. Part of that is to strip things down. That was the beauty of doing Bees + Things + Flowers. It shows how we really feel about music."

Amazon Link

Listen now:

"Crave"
"Deep Waters"
"Everybody Loves The Sunshine"
"Everyday"
Also, don't forget you can also post Bluey' podcast about the new album here.