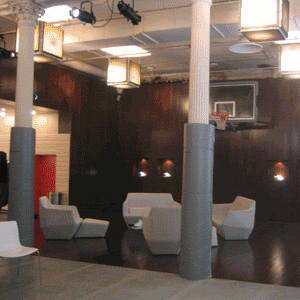 On Friday November 10, 2006, Nike provided select members of the public with a Nike Air Force 1 stroll down memory lane also providing a glimpse into the future of the very infamous NIKE product. January 2007 marks the official b>25 Year Anniversary for the Nike Air Force One from the year of its inception.
Invitees attending the exclusive event entered through a fluorescent lighted hallway decorated with photos of the first (B) Ballers to wear the shoe in 1982. Followed by clips of the first commercials for the shoe. That hallway lead to a room emulating a basketball court. Different models of the Nike Air Force 1 were on display within the walls. The progression of design models shows the journey of the shoe from its white on white original onto its multiplication in a variety of stitching and colors.
Visitors were then invited to view a documentary made by Thibaut De Longeville, Director of "Just For Kicks". The newer NIKE-branded film highlights the history and significance of the Nike Air Force One. Narrated by shoe connoisseurs Bobbito, Run DMC, and others. We next move into a room unveiling two of the most elaborately designed Air Force Ones. Each costing $2000, coming in crocodile and anaconda Both have gold plating on the shoe lace tips and are made in Italy by a diligent and passionate shoe maker as another documentary showed on the wall.
Lastly, in celebration of the 25th anniversary of the Air Force One, the Air Force 25's are revealed. As Bobbito says in the film, the key to Nike's success with the Air Force 1 and the reason for its lasting presence in our culture is simple: you make a comfortable shoe, and it looks good…. people are going to buy it.