Hypnotic Brass Ensemble return to NuJazz Fest Nov. 23


Souljazz Orchestra release new CD Solidarity at NuJazz Launch Nov. 9


Mushroom Jazz DJ Mark Farina plays Nov. 17


Billy Martin (of Medeski Martin & Wood) & Wil Blades Duo play Nov. 17


Multi-instrumentalist, vocalist and DJ Chuck Love performs Nov. 24


Shuffle Demons continue to tout their new CD "Cluster Funk" on Nov. 17
NuJazz Festival turns 5 years!
It's been an incredible run so far, and we've made it to the 5 year milestone.  Thanks to the music fans of the City of Toronto for their ongoing support.  We're so very excited about our line up that continues the tradition of breaking new artists and supporting Canadian Talent.  Please take a look at the events we've set up and please join us for these incredible shows.
The Festival's incredible lineup embodies the spirit of nu-jazz, which is bringing jazz into a modern context by blending this essential improvisation-based art form with other contemporary styles.  Visit us online www.nujazz.ca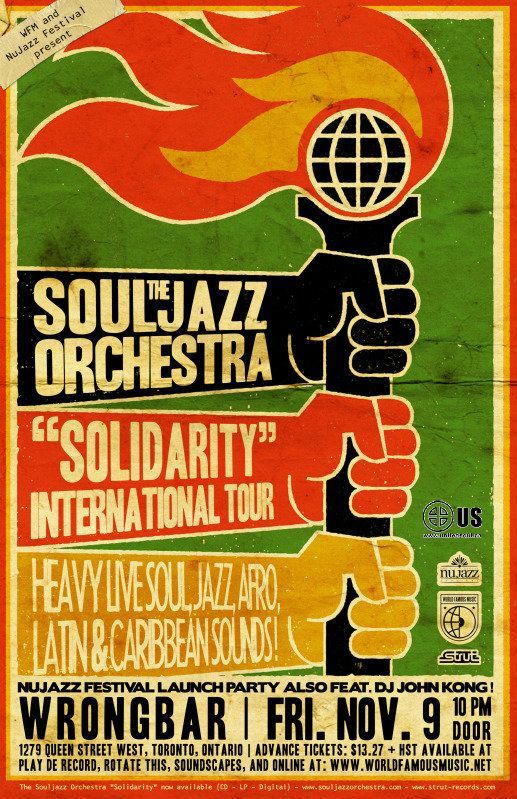 www.WorldFamousMusic.net & www.nujazz.ca presents
Friday, November 9th, 2012
Souljazz Orchestra CD Release Party for "Solidarity"
www.souljazzorchestra.com
Launch Party for NuJazz Festival
plus DJ John Kong (Do Right Music) and Groove Institute (United Soul)
Wrongbar – 1279 Queen St. W. www.wrongbar.com
Adv. $16 Tix
Tickets at Soundscapes, Rotate This & Play De Record
Facebook Link: http://on.fb.me/RU7KhD
The Souljazz Orchestra's new album "Solidarity" comes out this month and the band will be having a massive release party at Wrongbar, in Toronto, on Friday November 9th, 2012.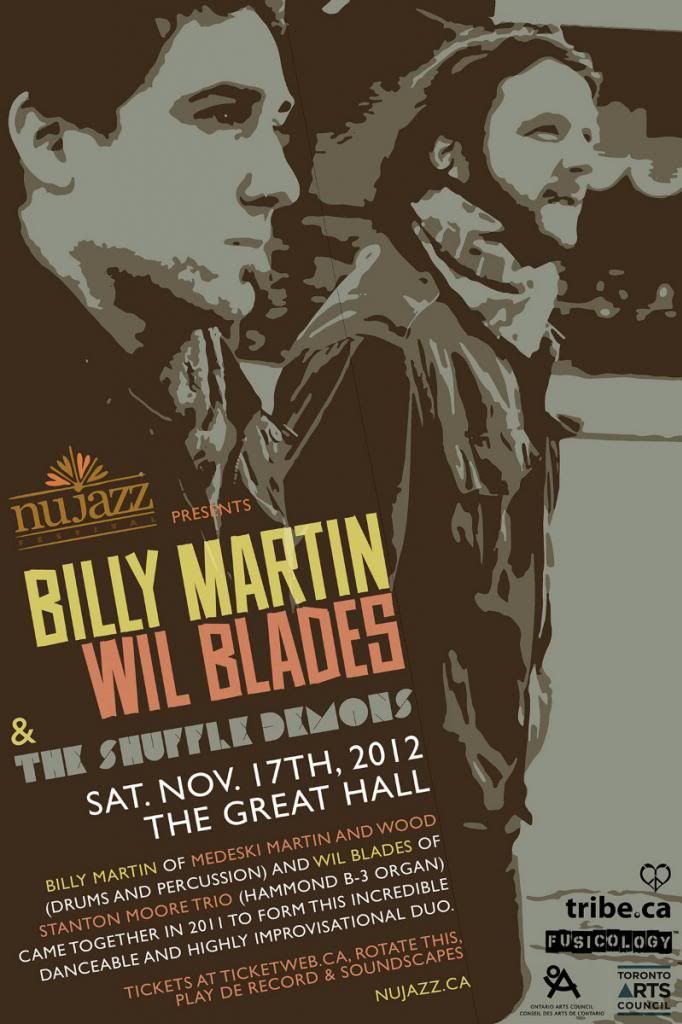 Saturday, November 17th, 2012
Billy Martin & Wil Blades Duo
The Shuffle Demons
www.shuffledemons.com
Jailmate (featuring members of Burt Neilson Band)
plus DJ Jive Express (Sweetback, Chameleon Project)
THE GREAT HALL 1087 Queen Street West www.thegreathall.ca
Tickets: $25 – Soundscapes, Rotate This & Play De Record
Ticketweb Link: tktwb.tw/OryUOO
Facebook: on.fb.me/Rz5XxD
Billy Martin of Medeski Martin and Wood (Drums and percussion) and Wil Blades of Stanton Moore Trio (Hammond B-3 Organ) came together in 2011 to form this incredible danceable and highly improvisational duo.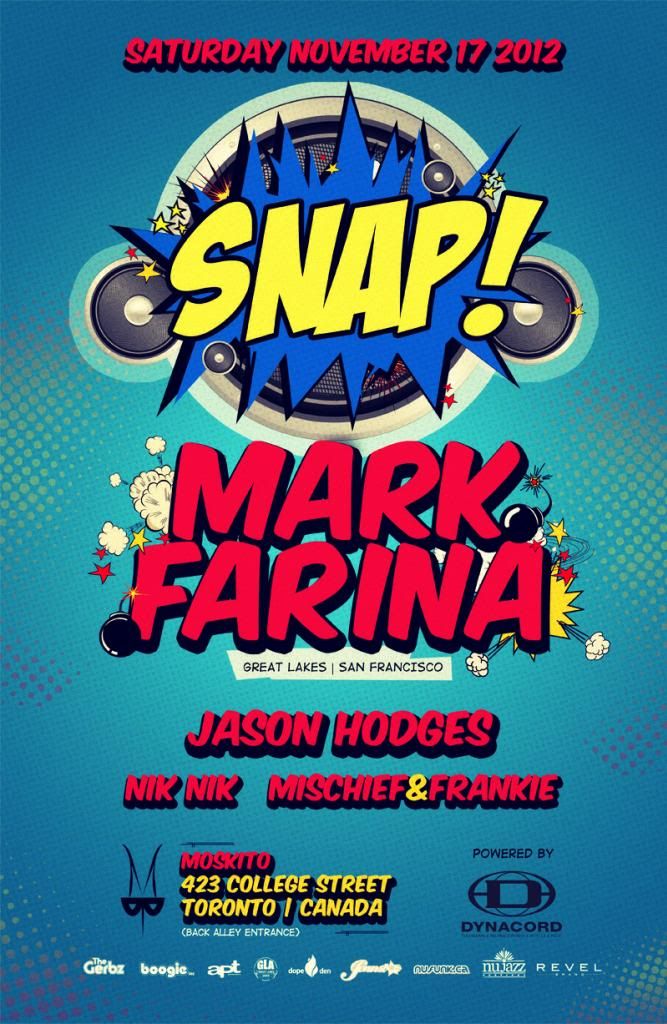 The Gerbz, Boogie & NuJazz Present
Saturday, November 17th, 2012
SNAP featuring Mark Farina (Om Records, San Francisco)
w/ Jason Hodges, Nik Nik & Mischief&Frankie
Moskito – 423 College Street Toronto, Canada (Back entrance off Bathurst)
ONLINE Tickets: https://www.boogieinc.ca/ticket.html?id=3
Facebook Page: http://on.fb.me/RihVxk
ADVANCE $30 TICKETS IN STORES
Play De Record – 357 Yonge St. – 416.586.0380
Moog Audio – 442 Queen St. West – 416.599.6664
Join us on Nov.17th at Toronto's new underground playground, Moskito. Don't miss your chance to witness the return of San Fransico's finest DJ Mark Farina as he drops bombs on Moskito's Dynacord beast for the very first time! Get ready for the BOOM!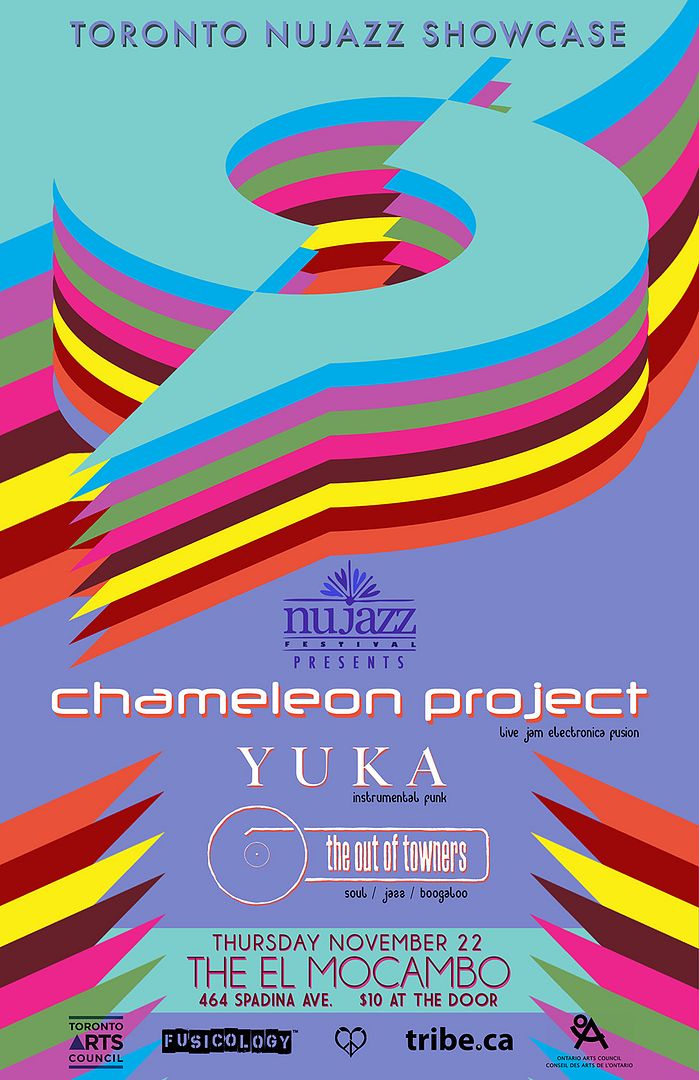 Thursday, November 22th, 2012
Toronto NuJazz Showcase featuring:
Chameleon Project
Yuka
The Out of Towners
and DJ Dazz Nice
El Mocambo, 464 Spadina Ave.
$10
Facebook page: http://on.fb.me/PXGe6J
Toronto's agents and instigators of the local nujazz, jam, fusion & electronica scene come together for an incredible night of music.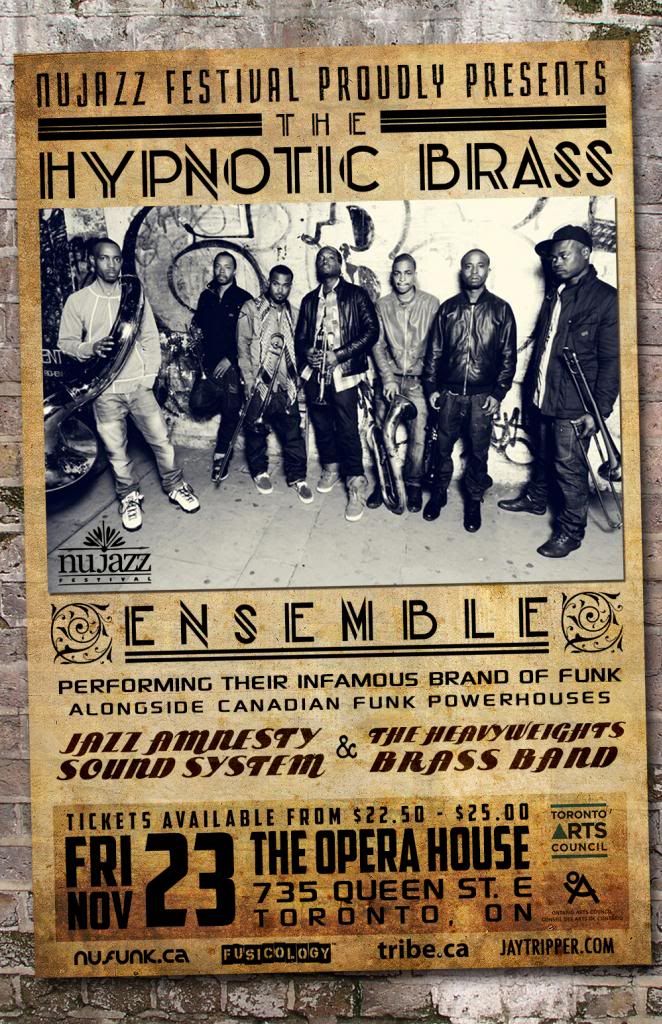 Friday, November 23, 2012
NuJazz Festival Gala
Hypnotic Brass Ensemble (NYC) www.hypnoticbrassensemble.com
w/ Jazz Amnesty Soundsystem (MTL) & The Heavyweights Brass Band
Opera House, 735 Queen St. E
Tickets $22.50-$25: tktwb.tw/UPFgud
Facebook: on.fb.me/Sh00rZ
Chicago-based brass ensemble consisting of 8 sons of jazz trumpeter Phil Cohran return to NuJazz Festival after headlining the first NuJazz Festival back in 2007.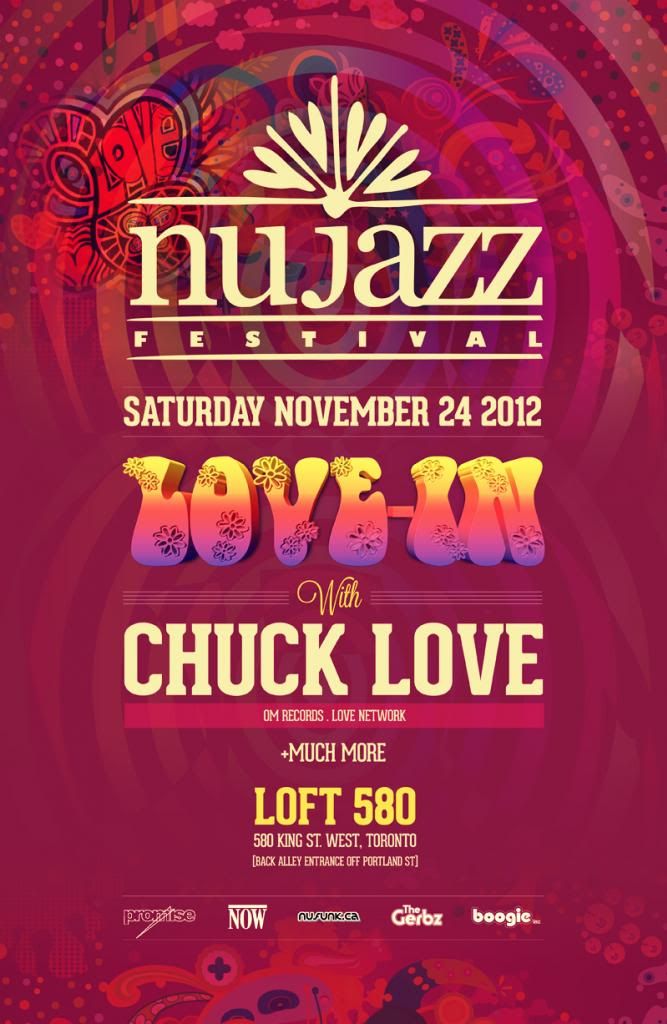 NuJazz Festival, The Gerbz, Promise & Boogie present
Saturday, November 24th
Chuck Love (OM records, Love Network)
www.chucklove.com
w/ Circle Research, Richard Brooks & Farbsie Funk
Loft 580 – 580 King St. West, Toronto
Advance Tickets: https://www.boogieinc.ca/ticket.html?id=5
Facebook Page: http://on.fb.me/QeaLwK
The show will feature Chuck's signature multi-instrumentalist/vocalist/dj set along with some new surprises for the crowds.
5th Annual Toronto NuJazz Festival
www.nujazz.ca
The Nujazz Festival is produced with the financial support of the Ontario Arts Council & Toronto Arts Council. Presentation partners include: Now Magazine, Nufunk.ca, The CyberKrib, United Soul, CIUT 89.5 FM, World Famous Music, Tribe.ca, Fusicology Toronto, Promise, Boogie Inc, The Gerbz, Make it Funky and Soul Drums.