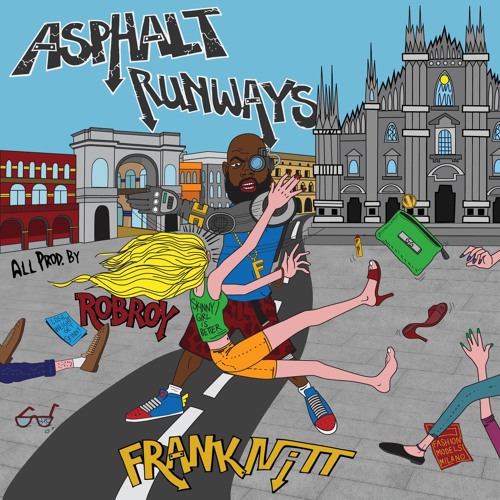 On the heels of his critically acclaimed solo effort, 2015's Frankie Rothstein, Frank Nitt (Frank N Dank, Yancey Boys, J Dilla) has formed a new label, Primo Atto Entertainment, with Milan, Italy based Eritrean producer/engineer Robroy, to release a collaborative album, Asphalt Runways.
With production duties handled solely by Robroy and the witty wordplay provided by Nitt, (along with a host of premiere MCs, musicians and singers including Terry "Zapp" Troutman, Bishop Lamont, Illa J, OhNo, Guilty Simpson, Botni Applebum, Rhettmatic, Mixtapers, Jay Vernon, Rah Digga, and Kokane), Asphalt Runways is the perfect blend of the ornate and glamorous Milan runways, mixed with the gritty asphalt jungle of Detroit. To wrap it up with a nice bow, Primo Atto Entertainment inked a distribution deal with storied Los Angeles based independent label Delicious Vinyl, responsible for hits from the likes of The Pharcyde, Tone Loc, Brand New Heavies and more.
[soundcloud url="https://api.soundcloud.com/tracks/253945757″ params="auto_play=false&hide_related=false&show_comments=true&show_user=true&show_reposts=false&visual=true" width="100%" height="450″ iframe="true" /]
"Social Butterfly", the first offering from Asphalt Runways, displays Frank's distinctive flow over a smooth, but bass heavy, Robroy composition. The single tackles the issue of social media starlets and the burning question… "Do you look this way in the morning before the pictures?" Shot entirely in Milan, the video presents a visual case to the court of social media.
For more information, please contact [email protected]
[embedyt]https://www.youtube.com/watch?v=V7tAI8sK_xo[/embedyt]