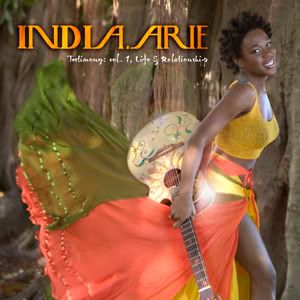 FIRST NEW ALBUM IN FOUR YEARS


(New York, NY)– One of music's most honest and inspirational singer/songwriters, 12-time Grammy nominated India.Arie will release her new album, Testimony: Vol. 1, Life & Relationship, on June 27. Her third studio album, and her first since 2002's acclaimed Voyage To India, which reached #6 on the Billboard Top Albums chart, the new disc was produced by longtime collaborators Shannon Sanders and Mark Batson (Seal, Beyonce), among others. The album's first single, "I Am Not My Hair," featuring searing remix collaborations with Akon, Swizz Beatz, and Jazze Pha, marks the first time India.Arie has agreed to let other artists remix her work.
Known for her soulful pursuit of unvarnished musical perfection, the new album is a more personal expression containing more intimate songscapes from the artist, duly recognized through the years for her keen insights about the world at large. India.Arie embarks this month on a heavy promotional schedule for the new disc, including a performance at the National Black Mayors Conference in Memphis, TN on April 29. She will also be doing an extensive promotional tour in May, with a trek to Europe after Memorial Day to perform select songs from the much anticipated album.
For more information on India.Arie and for clips off the new album, go to India.Arie's official website