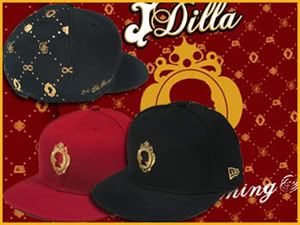 A new line of New Era Fitted hats honoring the memory of Hip-Hop fixture Jay Dee (aka J. Dilla) will debut on Okayplayer.com. The web site will exclusively unveil and sell the fitted head pieces and Ecko t-shirts beginning at 12:00 pm ET Friday (Nov. 24) .

On Dec. 18th, the video for "Won't Do" featuring Will.I.Am, Common, Black Thought, Frank'N'Dank and the Yancey family will be shown Exclusively Here

The revered producer, a founding member of the rap group Slum Village, was known for his work with numerous artists, including Common, Erykah Badu, Busta Rhymes, The Roots, De La Soul and the Pharcyde. Jay Dee (born James Yancey), left Slum Village in 2003 to pursue a solo career. He died on February 10, 2006 from complications of lupus.

Proceeds from the sale of the Jay Dee headwear will go to the J. Dilla Foundation, an organization founded to keep the producer's memory alive through partnerships, events, concerts and fundraisers.
The exclusive hats will also be available at:
New York – Union NY 172 Spring Street
Los Angeles – Union LA 110 South La Brea Avenue
Toronto – Goodfoot 431 Richmond Street
Montreal – Goodfoot 3830 St. Laurent Boulevard