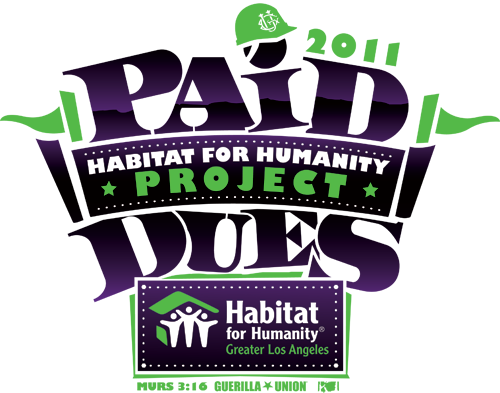 The first ever Paid Dues Habitat for Humanity Project 2011, which took place on Saturday, February 12th, was a huge success! It was such a fun, inspirational and empowering day. Murs and Guerilla Union would like send a very special THANK YOU to Habitat for Humanity of Greater Los Angeles (HFH GLA) for all of their hard work and dedication to help provide affordable and sustainable housing to families and individuals in the Los Angeles community and around the world. This project couldn't have happened without the generosity and compassion of the Paid Dues fans! The 25 fans that registered and volunteered embodied the true spirit of what Paid Dues and Hip Hop is all about.The movement is not over yet! YOU can still support The Paid Dues Habitat for Humanity Project. With a monetary, 100% tax-deductible contribution, you will share in the mission of HFH GLA and make a positive impact in our community. Donations start as low as $15.00. A small donation WILL make a BIG difference!
Click here to DONATE:
http://fundraising.intelis.com/hfhgla/Donations/CampaignDetail.jsp?CI=cc0d0bb812dc84885fa100163e24516a
PAID DUES HABITAT FOR HUMANITY PROJECT 2011
Bright and early on Saturday, February 12th, Murs, Guerilla Union, Habitat for Humanity of Greater Los Angeles (HFH GLA) and 25 extraordinary Paid Dues fans came together for the first ever Paid Dues Habitat for Humanity Project.
Walking on to the build-site that morning, the Habitat for Humanity crew leaders were already a flutter getting everything arranged as the volunteers began to show up. There was an overwhelming sense of excitement and anticipation, and a tiny bit of anxiety from not knowing what the day would bring. For some of us, this would be the very first time on a construction site, handling a power drill, or even a hammer for that matter. But, that wasn't important. Skilled or not, we were all prepared that morning with the will and desire to step out of our comfort zones and build a house!
Within moments, we were putting on our hard hats and grabbing our designated tools. We were split up in to various groups, each lead by the most admirable construction supervisors on the planet (many of whom also volunteer their time and expertise to Habitat for Humanity year-round). With a little bit of guidance and A LOT of patience by our crew leaders, we were measuring, sawing, drilling and hammering away.
Paid Dues/Habitat For Humanity Project from Wonderbox Studios on Vimeo.