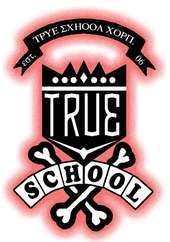 This past weekend,
9th Wonder
and his crew of 7 brought their
TRUE SCHOOL
party to Los Angeles. The event put on
RK Entertainement
and was sponsored by
Puma, Fusicology & KOOL
. TRUE SCHOOL: We ain't old school….We ain't new school….
Click here to view photos from last week's gig @ Cinespace, Hollywood.
The TRUE SCHOOL CORPORATION, LLC was founded March 25, 2006 by 7 young men who felt the need to create a much needed space for their age group in the media marketplace, by celebrating 15 years of music, culture, and film (1980-1995).
Thus, TRUE SCHOOL CORPORATION was born. Every aspect of that era is being ignored by mass media, as if it does not exist. For many of us, those were the best years of our lives; our first loves, our high school experiences, our college years, etc. In addition, the music, movies, and culture that came with those memories has also been pushed to the side.
Every aspect of mass media is for the "Tom Joyner" generation (ages 40+) or the 106 and Park Generation (ages 21 and under). It is time for the "spike lee/house party/different world/new jack city" generation to stake our claim in the marketplace, by observing the accomplishments and the culture impact our OUR generation.
It's OUR time…